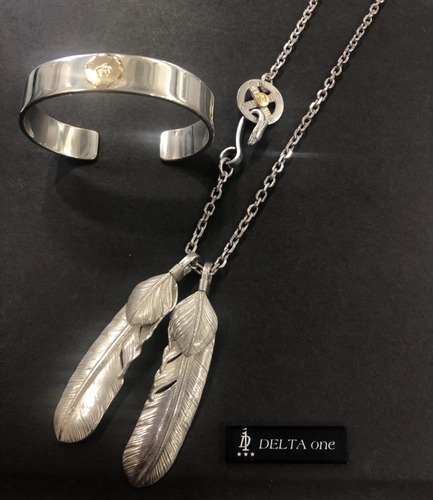 如果您有喜歡的某個特定型號,則也可以將兩個相同的羽毛一起搭配!
如您所知,羽毛有兩個方向,左和右。 可以自由選擇您喜愛的方向。但是,如果您希望一條項鍊中有兩個以上的羽毛,則建議將羽毛朝向相反的方向。 這是從goro's收集羽毛的樂趣之一。
【上銀羽毛】
價格:10000港幣起
上銀羽毛將是特大羽毛系列中價格最低的一款。 如果您有預算考量,請隨時與我們分享!😉這樣我們就能為您提供預算範圍內的一些組裝範例!
If you have some particular model that you love, you can pair two of the same Feathers as well!
As you know, there are two directions for the Feather, Left and Right. It would your preference to choose the direction. But, if you would like to have more than two Feathers in one necklace, the Feathers are advised to be in the opposite directions. This is one of the enjoyable thing to collect Feathers from goro's.
【Silver Top Feather】
The price: 10000HKD~
The Silver Top Feather would be the lowest price among the XL Feather series. If you have the budget, please feel free to share with us!😉 So that we will be able to offer you some setup samples that is within your budget!