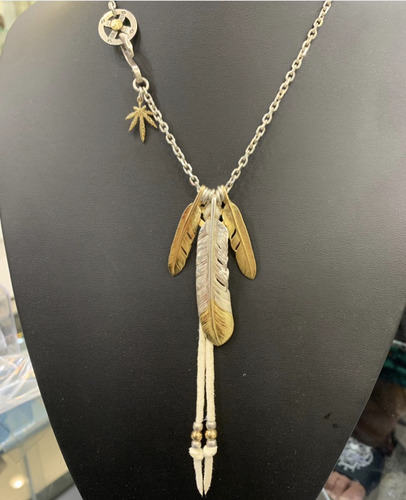 在某些情況下,人們更喜歡普通風格的羽毛。 就是這款!
可以將兩個全金羽毛(M)添加到先金羽毛中。 全金大麻葉給您帶來俏皮的味道,您也可以考慮用其他金屬代替。
此外,有時在全金羽毛和先金的羽毛之間插入圓扣配件。這是為了防止羽毛相互重疊。 將使用W圓扣配件上較小的配件。
如果您一直在努力解決此問題,可以參考使用以下解決方案!
There are occasions where people prefer a plain-style Feather. So here it is!
Two All Gold Feathers (M) can be added to the Gold Tip Feather. While the All Gold Grass gives you the playful taste, you can consider replacing them with other Metals as well.
Additionally, sometimes the Jump Rings are inserted between the All Gold Feathers and the Gold Tip Feather. This is to prevent the Feathers from overlapping with each other. Smaller Jump Rings on the Double Jump RIngs will be used.
If you have been struggling with this issue, here is your solution to the problem!