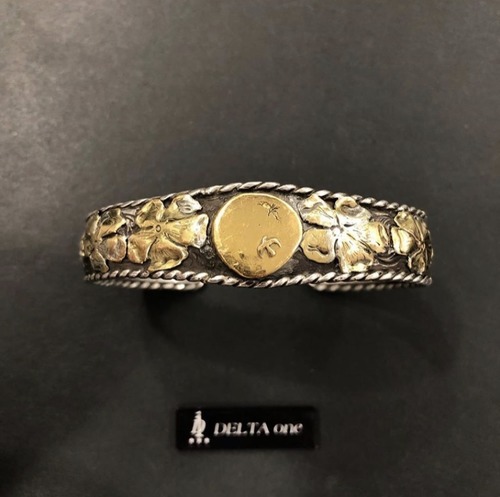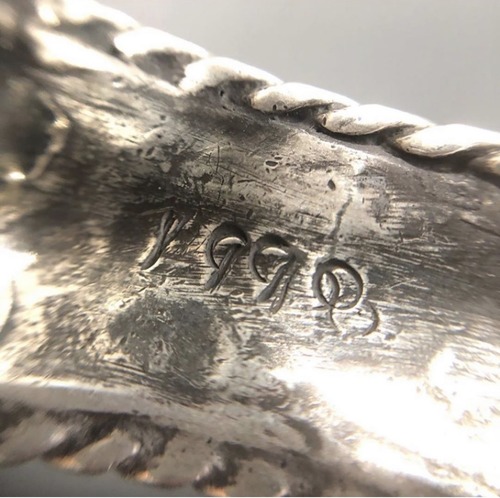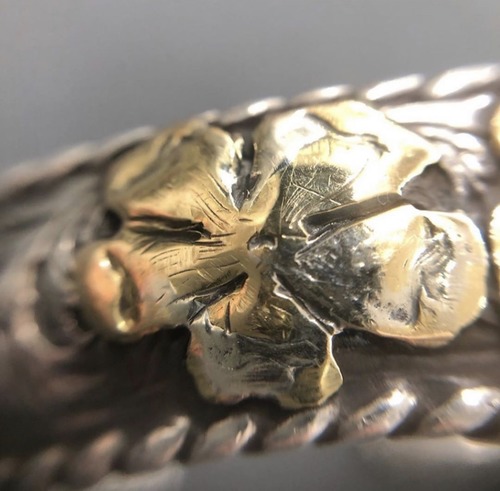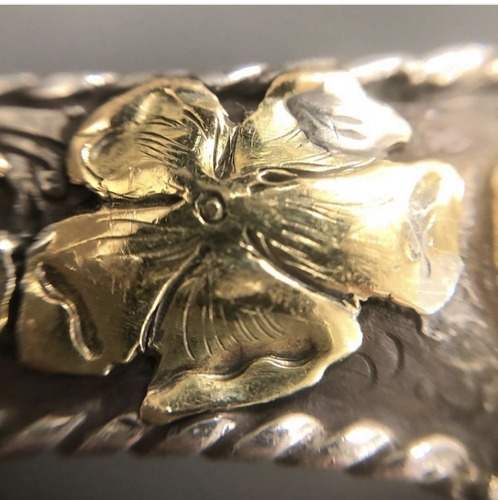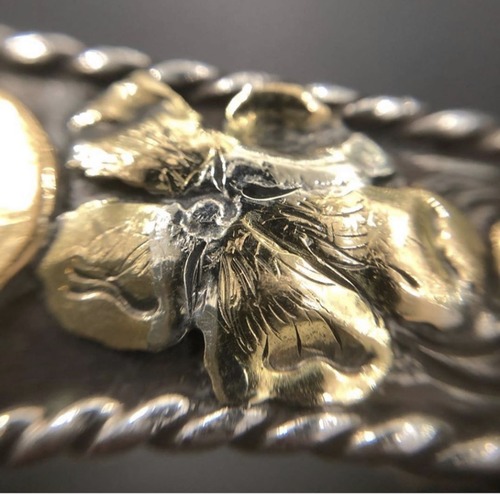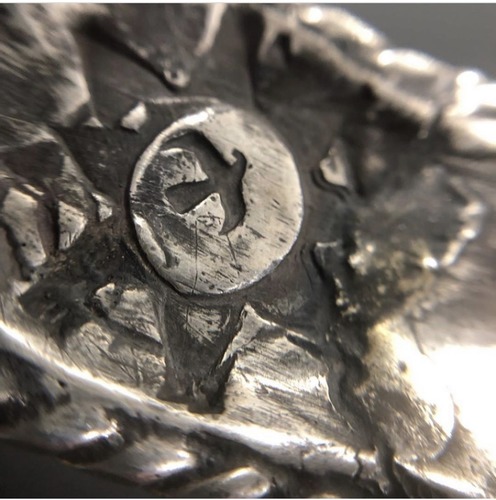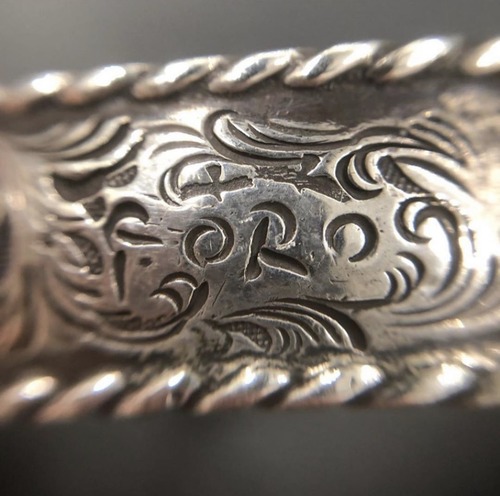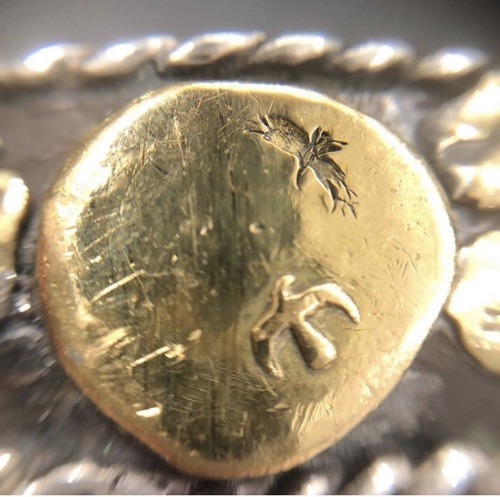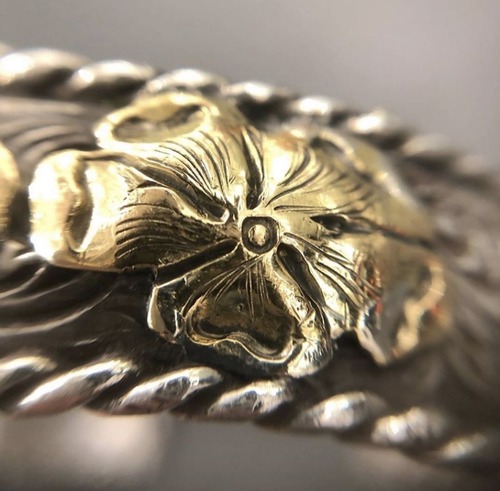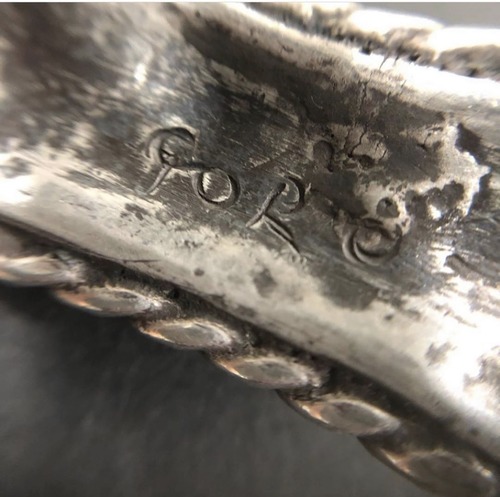 它是高橋吾郎(Goro Takahashi)在1990年代手工製作的作品之一。尺寸比平打手鐲(L)稍大,平打手鐲是為選定的手製工藝品。我們不確定,但它可能是為自己而做的。
這種繩狀設計未在《原宿五郎的傳說》第1至3卷中出版。可能會有一個問題,"我們怎麼知道它是真品?"。這僅僅是因為我們一直在研究goro's的許多產品,包括仿冒產品。十多年的經驗和承諾將證明我們的產品檢驗技能。最重要的是,我們有知識來判斷蔓藤花紋圖案的雕刻的真假。
正如我們在上一篇文章中的分享,有兩種類型的蔓藤花紋模式可用。一種是細紋。另一個較粗,也可以在此手鐲上看到。線條較粗的那一種被認為是稀有的。
[前部]
・手鍊中央有K18黃金金屬
有一個帶有雕刻的鷹烙印。這意味著金屬的尺寸比通常的尺寸大得多。
・ K18金玫瑰(XL)–焊接了四隻特製的玫瑰。
・名字和鷹烙印
刻有吾郎的名字和兩枚鷹老印。
[內部]
・鷹烙印
·年份
·名稱
很少見到兩面都刻有名字。當然,此商品是高橋吾郎(Goro Takahashi)手工製作的,是世界上獨一無二的商品。
It is one of the works made by hand by Goro Takahashi in the 1990's. The size is slightly bigger than the Flattened Bracelet (L), which is a specially crafted item for the chosen one. We are uncertain, but it might have been made for himself.
This roped design is not published in the books, The Legend of Harajuku goro's Vol1-3. There might be the question, "How could we tell if it is genuine?". This is simply because we have been looking at a lot of products of goro's including the fake versions. The experience and commitment of over 10 years will prove our skill for product inspection. Most importantly, we have the knowledge to tell if the carvings of Arabesque patterns are fake or not.
As we have shared in our previous post, there are two types of Arabesque patterns available. One is with the finer lines. Another one is with the thicker lines, which are seen on this bracelet too. And again, the one with the thicker line is considered rarer.
[Front]
・K18 Gold Metal in the middle of the bracelet
There is a stamp with hair carvings. This means that the size of the Metal is much bigger than the usual ones.
・K18 Gold Roses (XL)
Four special made Roses are soldered.
・Name and Eagle Stamps
The name of Goro and two Eagle stamps are engraved.
[Inside]
・Eagle stamp
・Year
・Name
It is rare to see names engraved on both sides. And of course, this item is handmade by Goro Takahashi and it is a one-of-a-kind item in the world.