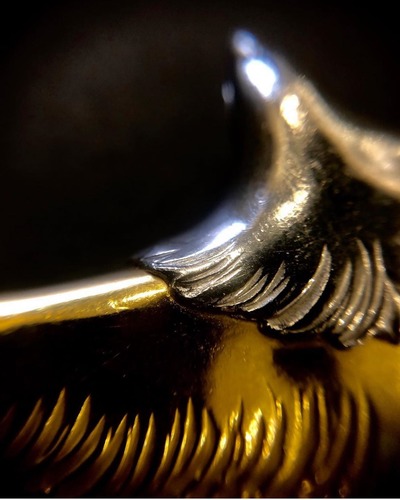 正如我們在上一篇文章中所提到的,鉑金被用於製作全金鷹的頭部

在80年代末至1997年期間,當高橋先生(Goro Takahashi)仍然在goro's商店為他的顧客服務時,那時鉑金的市場價值遠高於黃金。
例如,1991年黃金價格為1400日圓/克,鉑金價格為1600日圓/克

而目前,黃金價格為5000日圓/克,鉑金價格為3000日圓/克

正如您可能已經注意到的那樣,在當年最有價值的材料被用於製作這件特別的作品上,
雖然在製作過程中也是有使用模具,但它大部分依然還是由高橋吾郎先生(Goro Takahashi)獨立手工打造而成的。

今天我們很高興為您介紹這樣一件珍貴的作品!
感謝您的不斷支持!


As we have mentioned in our previous post, platinum is used for the head of the All Gold Eagle.

The market value of platinum was much higher compared to gold during the late 80's to 1997 when Goro Takahashi was still serving his customer at the goro's shop.
For example, the gold cost 1400JPY/g and the platinum cost 1600JPY/g in 1991.

Currently, the gold would cost 5000JPY/g and the platinum would cost 3000JPY/g.

As you might have realized, the most valuable materials at that time were used for this special piece.
Although the mold was being used in the process, it was solely crafted by Goro Takahashi.

We are very happy to introduce you to such a precious piece today! 
Thank you for your continuous support!