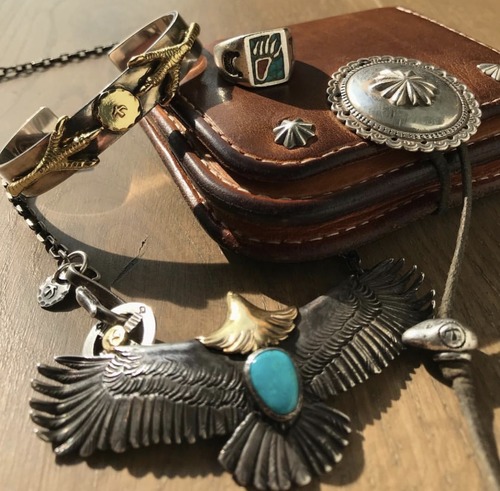 在二手市場上流傳的加泰羅尼亞鷹並不多,我們可以肯定地說,根本沒有。 名稱和年份雕刻是鷹的象徵,具有超值價值。
此外,還有一些值得注意的關於這款鷹,首先,有兩隻鷹雕刻著細緻的細線和三隻鷹烙印。 此外,喙和眼睛很容易引人注目。 它被認為是市場上最好的鷹之一。
其次,綠松石被焊接並放置在鷹背面的中心,支撐綠松石的金屬片被高橋吾郎先生Goro Takahasi小心翼翼地敲打。 毋庸置疑,這再其他鷹上面幾乎看不到這些特徵。
這個特殊的鷹可能可以永遠保持金色…
There aren't many Catalonia Eagle circulating in the second-hand market, which we could safely say that there is none at all. The name and year engravings are the symbol of the Eagle with a premium value.
In addition, there are a few things that are worth noting about this Eagle. First, there are two Eagles with detailed hairlines engraved and three Eagles stamps. Also, the beak and the eyes are easily noticeable. It is considered as one of the best Eagles in the market.
Second, the Turquoise is soldered and placed in the center of the back of the Eagle. The Metal piece supporting the Turquoise was hammered with cares by Goro Takahasi. Needless to say, these kinds of features are hardly seen on the other Eagles.
This special Eagle may stay gold forever…