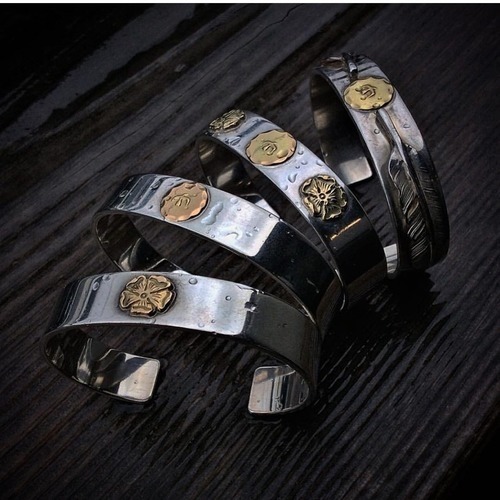 沒有平打手鐲,我們就不能談論goro's。
這是許多goro粉絲開始的產品之一。
雖然這是一個常規型號,但你很難在goro's的官方商店看到它們。
如果尺寸不合,您將無法購買。 這就是為什麼平打手鐲
除了帶有K18金屬 / 綠松石的標準型號外,平打手鐲還有幾種訂製的型號。
當高橋先生Goro Takahashi還活著時,具有阿拉伯式花紋圖案的平打手鐲作為特製型號存在。
來自V6的Ken Miyake,一位日本偶像,以戴它們而聞名。
我們DELTAone擁有日本最多的goro's庫存! 您可以參考我們多樣的goro's正品選擇!
We cannot talk about goro's without the Flattened Bracelet.
This is one of the items where many goro's fans begins with.
Although this is a regular model, you hardly see them at the goro's official store.
If the sizes are not available, you won't be able to purchase them.
That is why the value of the Flattened Bracelet is relatively high, similar to the Feathers.
Several special made models are also available for the Flattened Bracelet, apart from the standard models with K18 Gold Metal/Turquoise.
The Double Rose Bracelet, which we recently introduced, is also one of them🌹
While Goro Takahashi was still alive, the Flattened Bracelet with the Arabesque pattern existed as the special made model.
Ken Miyake from V6, a Japanese idol, is known to wear them.