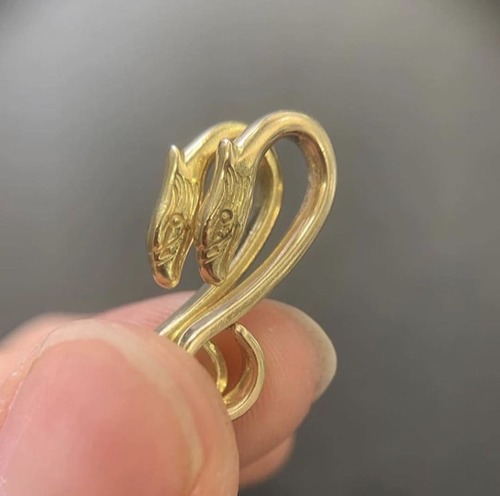 大約一年半前,使用新模具生產的這種鷹扣數量有限。 主要區別是頭部。 它比以前的型號更長些。但它的重量和雕刻都還是一樣。 請看第二張圖片。
由於生產量有限,因此該型號在鷹扣中被認為是稀有物件。 過去我們在DELTAone上回購此商品的機會很少。 第一次有機會看到的時候,我們認為這枚全金鷹扣是假的。 但是,我們會不斷地從排隊的goro's官方商店的VIP客戶和常客那裡獲取關於goro's真實性的知識和信息。
這是我們更新知識的方式之一! 我們不僅向客戶提供信息,並且還在向客戶學習!
Limited amount of this model with the new mold was produced about a year and half ago. The primary difference is the head. It is slightly longer than the previous model. Its weight and carving have are still the same. Please take a look at the 2nd image.
As the amount of production was limited, this model is considered as a rare item among the Eagle Hook. There were only few occassions when we buybacked this item at DELTAone in the past. The first time when we had the chance to see, we thought that this All Gold Eagle Hook was fake. However, we consistently update our knowledge and information about authenticity of goro's from our VIP customer and frequest customers, who queues up for the official goro's store.
This is one of the way that we update our knowledge! We do not only provide information to our customers, but we are also learning from our customers!