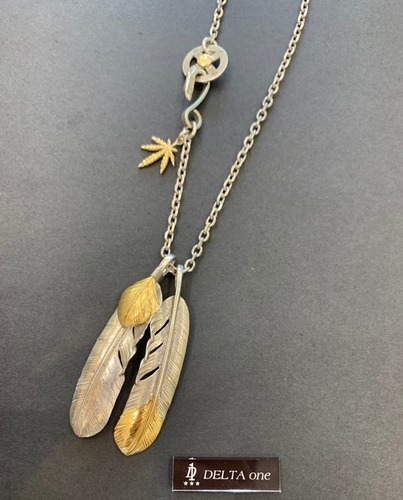 此設置的關鍵是使用全金大麻葉(S),它能給你一個與眾不同的外觀表現

先金羽毛和上金羽毛絕對是goro's設計中最經典的組合,這是一個很適合開始的選擇,特別是在未來如果您仍然不確定該如何升級您的goro's項鍊時,這很容易做到,它也可以與任何東西相匹配!

先金特大羽毛(右羽):44,400港幣起
上金特大羽毛(左羽):13,600港幣起
全金大麻葉(S):9,100港幣起
鷹扣細角項鍊:5,500港幣
K18金銀輪:11,800港幣起


【The Classic Setup】

The key for this setup is to use the All Gold Grass (S). It gives you a different look from the others.

Gold Tip Feather and Gold Top Feather would be the most classic combination of the goro's setup.
It would be a good option to start with, especially if you are still unsure how you would like to upgrade your necklace later on.
This is easy going and it is able to match with anything!

Gold Tip Feather Right (XL): 44,400HKD~
Gold Top Feather Left (XL): 13,600HKD~
All Gold Grass (S): 9,100HKD~
Small Cornered Chain with Eagle Hook: 5,500HKD
Silver Wheel with K18 Gold: 11,800HKD~

DELTAone為goro's在日本最可信的零售商