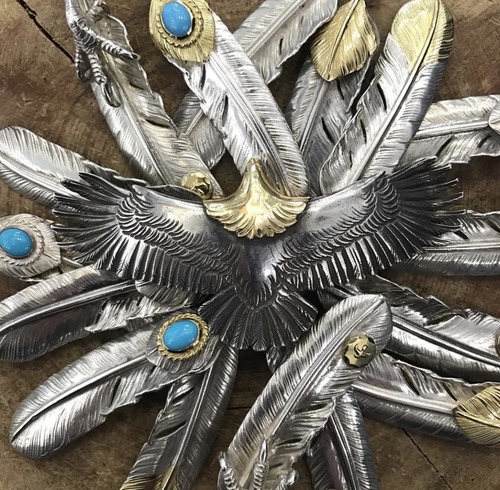 這款鷹的頭部由K18金製成,身體由銀製成。兩件都是由兩個不同的模具製成; 因此,兩件是後續由人工焊接在一起。
當我們DELTAone從我們的客戶那裡回購鷹時,我們首先檢查頭部附近的關節。對於他們中的大多數人來說,只要看一下就可以判斷它是否真實。
在第二張圖像上,我們有頭部的長度。每個鷹(L)的長度必須保持相同的尺寸,因為它是從同一個模具中創建的。但請注意,一些鷹(L)的頭部扭曲,這是取決於它是如何焊接的。
現在轉向鷹的重量和金屬烙印的形狀。金屬烙印也是檢查的關鍵領域之一。由於每個金屬烙印隨後用手焊接在身體上,因此每隻老鷹可能會有輕微差異。
說到重量,它正常會在37克至45克之間做變化。重量超過42克的老鷹被認為是罕見的。
對於我們的最終鑑定,我們會測量肩部的長度,如第3張圖所示。每隻鷹的長度都應該相似。由於拱形,它可能會導致測量的微小差異,但影響因素很小。
假goro's無法複製有幾個重要的點。我們經驗豐富的團隊始終專注於為客戶提供真正的goro's產品!
The head of this Eagle is made from K18 Gold and the body is made from silver. Both pieces are made from two different molds; hence, the two pieces are soldered together afterwards.
When we, DELTAone, buyback the Eagles from our customer, we first inspect the joints near the head. For most of them, we are able to tell if it is genuine or not by just looking at it.
On the first image, we have the length of the head. The length of every Eagle (L) must stay the same in size, since it is created from the same mold. However, please take note that some Eagles (L) have distorted head depending on how it was soldered.
Now moving on to the weight of the Eagle and the shape of the Metal Stamp. The Metal Stamp is one of the key areas to inspect. Since each Metal Stamps are soldered with the body afterwards by hand, there might be slight differences with each Eagles.
Speaking about the weight, it varies between 37g to 45g. The Eagles that weighs more than 42g are considered rare.
For our final review, we will measure the length of the shoulder as shown in the 3rd image. Every Eagle should have a length that is similar to each other. Because of the arch, it might cause small variances in the measurement, however the impact is minimal.
There are several points that a fake goro's cannot copy. Our experienced team always focus on delivering the genuine goro's to our customers !