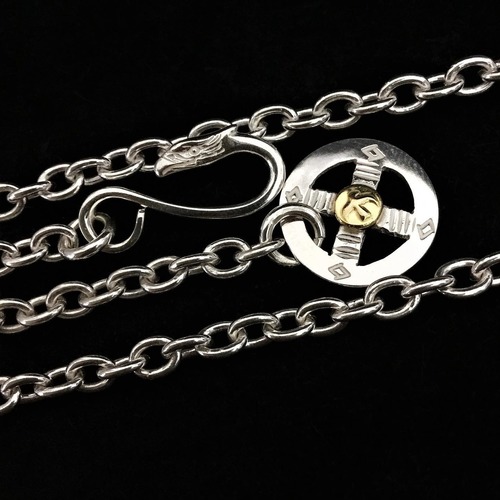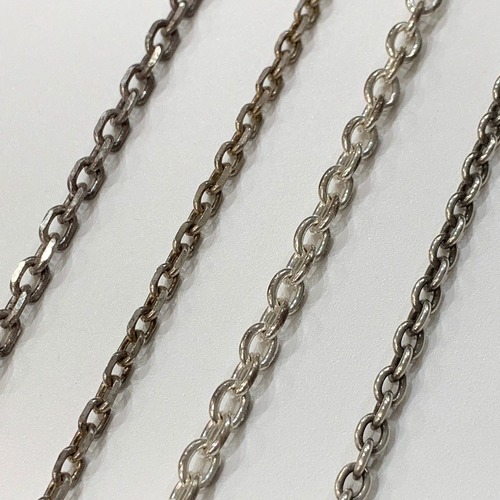 鍊條對於設計至關重要,最經典和最標準的goro's風格是羽毛、鍊條、圓輪和鷹扣的組合。
在goro's的官方商店,如果你沒有戴羽毛,他們就有很高機率不會你進店。

以下是goro's的鍊條類型:

-Small Cornered Chain(細角項鍊)
-Small Round Chain(細圓項鍊)
-Large Cornered Chain(大角項鍊)
-Large Round Chain(大圓項鍊)

最受歡迎的是細角項鍊,這是一個很容易選擇,適合所有項目,木村拓哉(Takuy​​a Kimura)也把它用於他的設計。
推薦給goro's的初學者。

請注意,所有鍊條(細角項鍊除外)可能需要W圓扣配件來組裝羽毛。
如果您在購買前有不確定的地方,請諮詢我們!

長鍊(只有大角和圓鏈)也可以。
對於那些喜歡十字架的人來說,長鍊是最好的選擇。因為它非常均衡,與許多現代高端品牌相匹配。

您總能在我們精選的清單中找到它們
立即訪問我們的網路商店吧!


Chains

The Chain is essential for the setup.
The most classic and standard style of goro's is a combination of the Feather, Chain, Wheel, and Eagle Hook.
At the goro's official store, they would not offer you the Chain if you didn't own a Feather.

The following are types of Chains available at goro's. 

-Small Cornered Chain (細角項鍊)
-Small Round Chain (細圓項鍊)
-Large Cornered Chain (大角項鍊)
-Large Round Chain (大圓項鍊)

The most popular one is the Small Cornered Chain, which is an easy option that goes well with all the items.
Takuya Kimura also uses it for his setup.
Recommended for the beginners of goro's as well.

Please take note that all Chains (except for Small Cornered Chain) might require a Double Jump Rings for the Feathers setup.
Please kindly consult us if you are unsure before your purchase!

Long Chains (Only Large Cornered and Round Chains) are also available.
For those who love the Cross, Long Chains is a better choice.
It is well balanced and it matches well with many modern, high-end brands.

You will always find them in our great selections.
Go and visit our online store now!

DELTAone為goro's在日本最可信的零售商