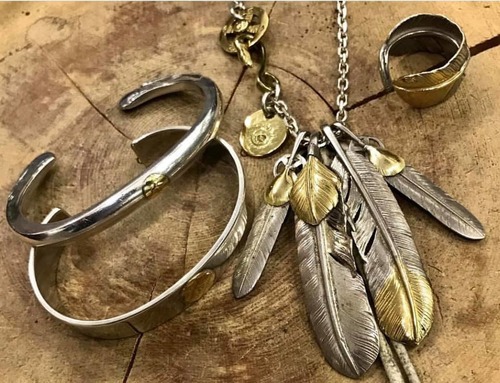 就設計一件商品而言, 黃金和銀的搭配比例至關重要
高橋吾郎先生精神裡的"陰陽"在先金特大羽毛跟上金特大羽毛的組合上詮釋得非常好!
金和銀是很平衡的對稱呈現。
此外,為了避免羽毛間的重疊,銀輪被巧妙地放在羽毛後面的皮繩上
如果您不確定該怎麼開始搭配您專屬的設計, 我們有著超過十年經驗的專業團隊將很樂意為您提供意見!
The allocation of the gold and the silver item would be important for the setup.
Goro Takahashi's sprit, "Yin and Yang", has been expressed well by the combination of the Gold Tip Feather (XL) and Gold Top Feather (XL).
The gold and silver is placed symmetrical, which is well-balanced.
Additionally, to avoid the overlapping of the Feathers, the Silver Wheel is placed with the Leather Cord behind the Feathers.
If you are unsure how to make your own setup, the advise would be provided by our professional team with the accumulated experienced of over 10 years.
DELTAone為goro's在日本最可信的零售商