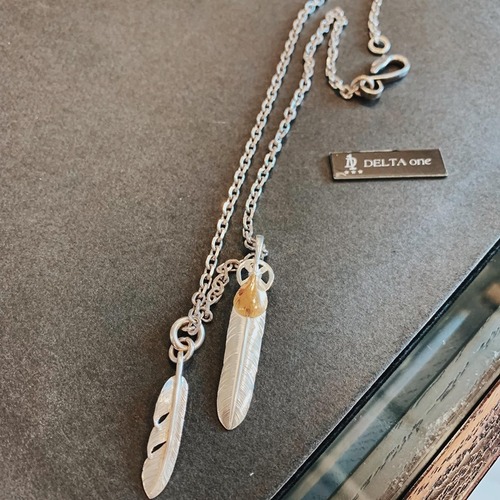 選擇正確的羽毛和項鍊的組合是非常重要的。
對於每個羽毛,都有相對應的項鍊適合用來搭配它!

如果您正在考慮自己的goro's組合,請參閱下面的建議,以幫助您搭配出適合的成品:

・特大羽毛:所有鏈條適用(細角項鍊,細圓項鍊,大角項鍊,大圓項鍊)
・十字輪羽毛:適合搭配 細角項鍊
(注意:若使用其它鏈條則需要搭配W圓扣配件)
・銀/全金羽毛:適合搭配 細角項鍊 和 細圓項鍊
(注意:若使用其它鏈條則需要搭配W圓扣配件)
Choosing the right combinations of the Feather and the Chain would be essential. 
For each Feathers, there are certain Chains that goes well with it!

Please refer to the TIPS below if you are considering your own goro's setup, so that you will not miss out the necessary items.

・Feather (XL): All Chains (Small Cornered, Small Round, Large Cornered, Large Round Chain)
・Heart Wheel Feather: Small Cornered Chain
Note: Double Jump Rings are needed for the rest of the Chains
・Silver/All Gold Feather (L): Small Cornered and Small Round Chains
Note: Double Jump Rings are needed for the rest of the Chains
DELTAone為goro's在日本最可信的零售商