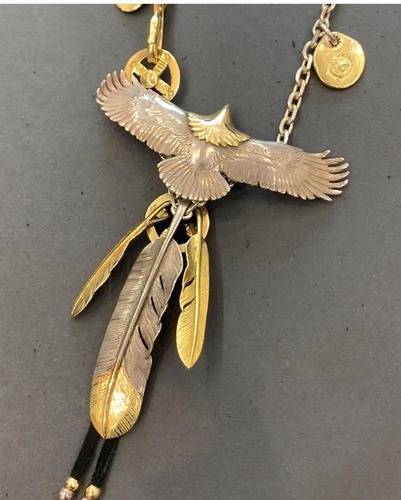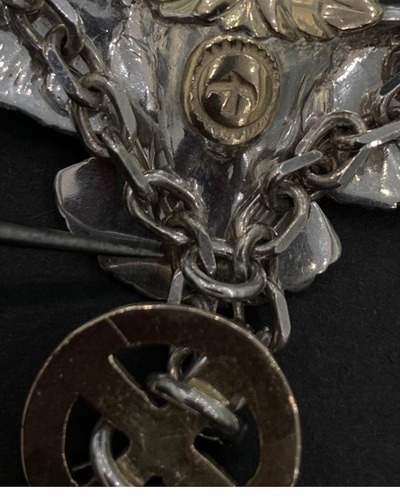 正如同在我們兩天前的貼文中所提到的, 項鍊圓扣配件通常被用於輪狀以及羽毛飾品之間。
現在, 我們將項鍊圓扣配件(S) 用於項鍊跟中鷹(M)的結合上,
這樣的搭配方式目前非常受到顧客們喜愛, 以及我們也希望透過這樣的結合能更確保配件間的安全性, 因為若單純的羽毛配件與項鍊結合的話非常容易鬆動, 在經過我們幾番的測試以及調整後, 我們終於找到一個完美的方式將其結合在一起,
且更確保整體配件的安全性。
請參考第三張照片,項鍊緊緊地將圓扣配件們結合在一塊。
為何選擇用圓扣配件呢?
那是因為我們最小的圓扣配件可以完全隱藏在鷹飾品後面,更重要的是,這樣一來從前面可以完全看不到這些圓扣配件哦!

正如同您所看到的,我們團隊不斷努力地透過累積的經驗、技術以及能力去滿足更多的消費者,因為有關於飾品間如何的配置是我們最常從客戶端收到的問題,而我們也將持續在這塊領域上努力!
如果您對如何購買goro的產品有任何的問題的話,請不要客氣讓我們知道,我們專業的團隊將非常榮幸可以為您服務!
As we have mentioned on our post two days ago, the Jump Rings are used to minimize the gap between the Wheel and the Feather.
Now, the Jump Rings (S) is used for the Chain and the Eagle (M).
These ways of setup is very popular among customers who wants their item to be more secured because the Feather could go loose when it is combined with the Chain.
After we have been thinking on how we could make it more secure, we finally found the optimal way. 
Please take a look at the 3rd image for the reference.
The Chain is secured tightly with the Jump Ring (S).
Why does it have to be the Jump Ring (S)?
This is because it is the smallest Jump Rings available that could be hidden behind the Eagle.
Most importantly, it is not visible from the front. 
As you may see, our accumulated experiences, skills and techniques comes from our best effort.
The question on how to setup is one of the common inquiries we get from our customers.
If you have any concerns or questions regarding your purchase of goro's, please do not hesitate to ask us anytime!
Our professional team is always here for you! 
DELTAone為goro's在日本最可信的零售商