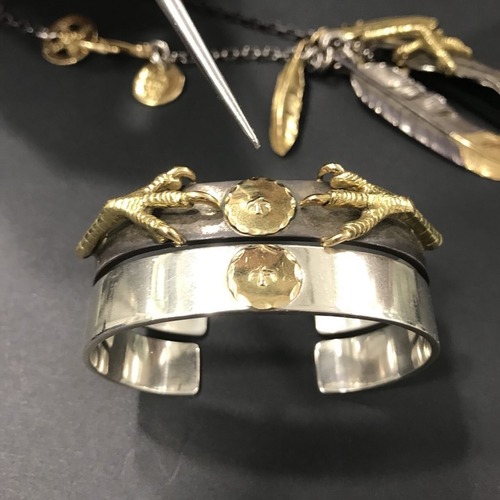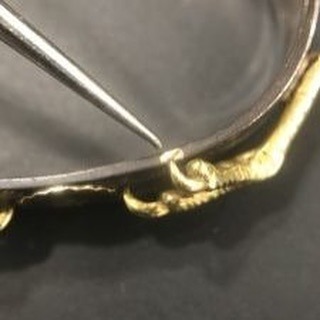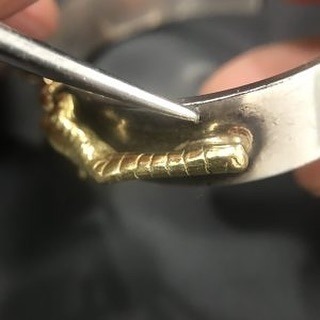 1. 金爪手鐲的價值並沒有下降。
由於產量很少,所以手鐲的價格一直都很高。

2.手鐲可以和銀或金一起做焊接
雖然還是得取決於它的生產年份,但手鐲和爪子可以與銀或金一起焊接。如您所知,金焊接更有價值,也更少見。
**對於銀爪手鐲,銀焊接是唯一製作的方法。

3.爪子
手鐲的爪子有自己的專屬的模具。
從圖片中可看出,手鐲上的每個爪都有三個爪子。
但是對於吊墜頂部或特大羽毛,則有四個爪子。
所以很明顯地,帶有三個爪子的爪子是專門為手鐲製作的。

4.金屬
金屬上的錘擊量會有所不同。
(請滑到下一張圖片)
張圖片說明這種特殊金屬是專門為這款手鍊而製作的。
**金爪手鍊也可以使用普通金屬製作。

有些時候真品零件也會被用來製作成假手鐲。
例如:
1)金屬特大羽毛 + 平打手鐲 → 金屬特大羽毛手鐲
2)全金羽毛(L) ×2 +平打手鐲→ 全金羽毛手鐲


1. Gold Claws Bracelete does not go down in value.
Since the production volume is small, the price of the Bracelet remains high.

2. Bracelet can be soldered with either Silver or Gold.
Although it really depends on the production year, the Bracelet and Claws can be soldered together with either Silver or Gold.
As you know, the Gold soldering is more valuable and rare.
**For Silver Claws Bracelet, Silver soldering is the only available method.

3. The Claws
The Claws for the bracelet has its own mold.
As you can see from the image, there are three talons for each Claws on the Bracelet.
For the Pendant Top and the Feather (XL), however, there will be four talons.
It is obvious that the Claws with three talons was specially made for the bracelets.

4, The Metal
-The amount of hammering on the Metal will vary.
(Please swipt to the next photo)
This photo proves that this particular metal was specially made to suit this bracelet.
**Regular metal is also available for the Gold Claws Bracelet.

There are occassions where fake bracelets are created using genuine pieces.
For example,
1) Feather with Metal (XL) + Flattened Bracelet → Feather with Metal Bracelet
2) All Gold Feather (L) ×2 + Flattened Bracelet → All Gold Feather Bracelet

However, we would like to iterate again that the soldering tells us the truth😉

DELTAone為goro's在日本最可信的零售商