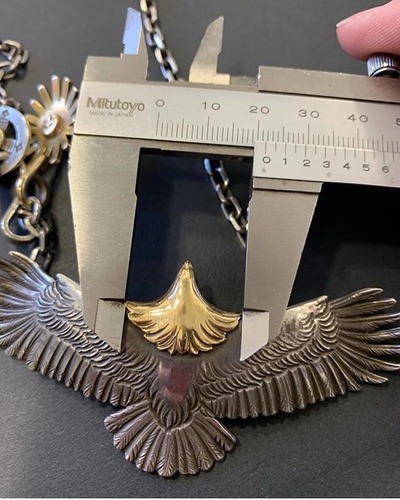 Let us share with you how to identify genuine large Eagle.
The head part is made of K18 gold and the body is made with silver, both made from are different molds.
They two pieces are brazed together. 
When we buy an Eagle from our customers, we first check this joint at the head of the eagle.
Most of the time we can tell the whether if is real or not by looking at this.
In the 2nd picture, we have shown you the length of the head.
The length should be the same since it is coming from the same mold.
However some large Eagle have their head deviated, depending on how it was brazed.
And finally we look at the weight of the eagle and also the shape of the metal stamp.
The weight is varies between 37g to 45g, however eagles that weight more than 42g are rare.
We have only seen a couple as well. 
The stamp is also brazed on the eagle, so there are differences depending on the eagle.
We measure the length of the shoulder like the one on the 3rd picture as a final check.
This length should also be almost the same length.
Because of the arch, it may have a slight different, but minimal.
These are few points that fake goro's can't imitate.
And our experienced team focuses on delivering our customers with Genuine goro's!
DELTAone Hong Kong is a trusted goro's Retailer from Japan.
AUTHENTICITY GUARANTEED.