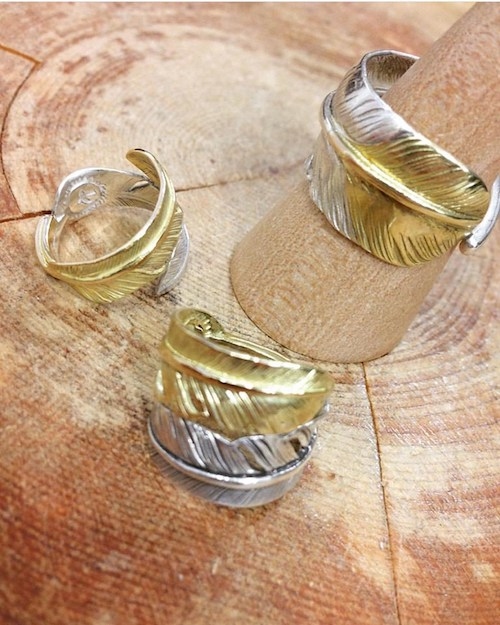 因為有尺寸的關係,戒指很難在一開始就馬上找到合適的尺寸,這是它最困難的地方之一。
如果您找到了完美的尺寸,那麼現在是您擁有它的時候了

如果你想要經典的goro's風格,那麼平打戒指絕對是最適合您的品項,許多goro's的粉絲都是從這個戒指開始的,正式因為它的簡約且單純的設計。
如果想擁有更進階的款式,但仍希望保持傳統元素,羽毛戒指是您最佳的選擇。
羽毛戒指有幾種不同設計可供選擇。 如果您不確定差異,歡迎隨時與我們聯繫!
如果喜歡在人群中脫穎而出的感覺,那麼鷹戒指或勾款戒指都是合適的選項。
請記住,它適合簡約的穿搭方式,盡量不要與其他戒指混搭在一起。

如果你還是一個不確定如何開始你的goro's之旅的初學者,那麼戒指絕對可以成為您入手的第一選擇。
Due to its size, the ring is one of the most difficult items to find the right one, at the right time.
If you have found your perfect size, it is the time for you to grab it now😉

If you would like to go for the classic goro's style, the Flattened Rings are the one you should get.
Many goro's fans start with this ring since it is simple and has an easy going design.
To have more class but still want to stay traditional, the Feather Rings are the perfect one.
There are several designs available for the Feather Rings.
If you are unsure about the differences, please feel free to contact us!

In the occasion where people prefer to stand out, the Eagle Rings or Cast Rings would be suitable.
Please keep in your mind that it is much nicer to wear it simple, and not to wear them with a lot of other Rings.

If you are still a beginner who is unsure on how to start with your goro's journey, the ring will definitely would not go wrong as your first choice.