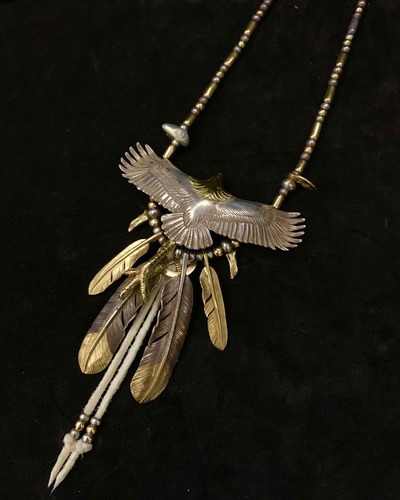 您可能已經知道,來自goro's所有配飾和皮革製品都受到美洲原住民文化的啟發。
goro's一直鼓舞著來自世界各地的人們。
創始者Goro Takahashi的靈魂和精神引領了這精神。
Goro Takahashi在他年輕的時候對美國的皮革雕刻和印度文化極度著迷。
在他高中時,便開始學習美國軍隊的皮革雕刻技術。
他對此領域非常地好奇,投入畢生致力於皮革雕刻。
過了幾年,Goro決定前往美國與南達科他州的拉科塔人會面。
這是他與goro's淵源的開始。
在南達科他州停留的期間,他向部落裡的人學習了銀的雕刻技術。
更在與拉科塔人會面後,他練習了太陽舞儀式並與部落建立了牢固的關係。
這絕對不是一個簡單的過程。
他的熱情,專注和毅力使他獲得成功。
完成所有儀式後,他被授予"黃鷹"稱號。
他是第一個被引入拉科塔部落的日本人。
從字面上看,我們可以說他被認為是美洲印第安人。
未完待續…
As you may already know, all the accessories and leather items from goro's are inspired from the culture of the Native Americans.
goro's have been inspiring people from across the world.
This phenomenon is led by the soul and spirits of Goro Takahashi.
Goro Takahashi was fascinated by leather carving and the Indian culture in the United States during his young age.
During his highschool year, he started learning the leather carving techniques from the American troops.
He was very intrigued and devoted his life to leather carving.
After a while, Goro decided to travel to the United States to meet the Lakota People from South Dakota.
This is the origin of his journey with goro's.
During his stay at South Dakota, he learned carving techniques for silver from the tribes.
After meeting with the Lakota People from time to time, he eventually practiced the Sun Dance ceremony and built a strong relationship with the tribe.
It was definitely not an easy process. His passion, concentration and perseverance is what made him succeed.
After completing all the rituals, he was given the title "Yellow Eagle".
He was the first Japanese ever to be inducted into the Lakota tribe.
In literal terms, we could say that he was recognized as American Indians.
To be continued…
DELTAone為goro's在日本最可信的零售商