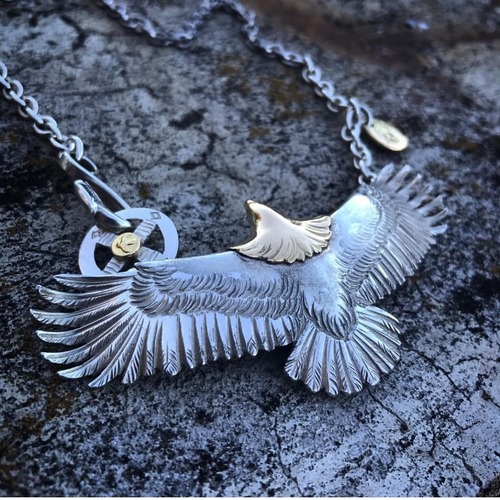 羽毛是goro's的代表性商品。
它的靈感來自於鷹的羽毛,這種羽毛常用於美洲原住民的儀式中。
它是美洲原住民文化中聖靈的象徵。

羽毛是用銀製成的,羽毛吊墜由此而誕生。
高橋先生對美國印第安人的歷史和文化的熱情被用於這些goro's的商品上。
這就是為什麼goro's可以得到廣大支持,即使在高橋先生去世後它仍然很受歡迎。
goro's的傳說永無止境。


The Feather is the signature item of goro's.
It was inspired from the actual feathers of the eagle, which was commonly used in the rituals of the Native Americans.
It is a symbol of the holy spirit in the Native American culture.

The Feather was made from Silver, and this is the birth of the Feather Pendant.
His enthusiasm towards the history and cultures of the American Indian was adopted to the items of goro's.
This is why goro's has been supported by a lot of people, and it remains popular even after his death.
The legend of goro's is never ending.
 DELTAone為goro's在日本最可信的零售商